Never lose business because of a lost
broadband connection. Choose
4G/5G Assurance with Alfonica.
4G/ 5G Assurance guarantees a strong, reliable internet connection for your business,
providing peace of mind at a competitive price. There are many uses for this type of connection,
but there are two instances where it can be particularly suitable:
As a backup/ failover connection
or disaster recovery solution,
which will help to minimise downtime
and keep your business running
smoothly in the event that your main
internet connection fails. We'll provide
a 4G or 5G dongle or SIM card which
simply plugs or slots into the back of
your router and can be switched on
as and when needed.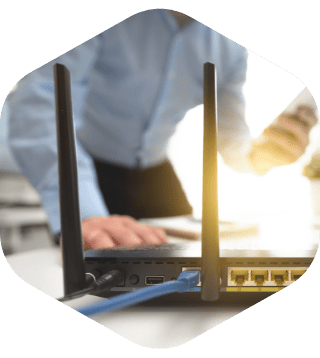 As a temporary connectivity solution
for customers who are having a leased line
installed. This is because leased lines
can take anywhere from 1 -18 months to
install, depending on a customer's existing
infrastructure and fibre availability in the
local area. Leased line customers may
also have chosen to have a leased line
installed because their ASDL connection
is faulty or unreliable. In this instance
we will provide a 4G or 5G router.
Benefits of 4G/ 5G Assurance
At Alfonica, we understand that reliable connectivity is essential for businesses,
and peace of mind is priceless. Our 4G/ 5G solution has many advantages:
Quick and easy
to implement
A cost-effective
backup solution
Of course, all of this comes with Alfonica's excellent customer service. Our connectivity experts are
on hand whenever you need them, and we'll handle everything from setup to support.
Want to find out how Alfonica can help you get started with 4G/5G Assurance?